Family run business message
Designed & Manufactured Message
general delivery message
A Buying Guide to Loft Ladders
A Buying Guide

to Loft Ladders
Lofts are the perfect solution for gaining much needed storage space in your home. They provide that extra space for storing belongings that would otherwise fill the rest of your home with clutter.
‍
The big challenge with loft storage is access. Most of us are content to rely on ladders never designed for such purposes. If this sounds like you, a loft ladder is the solution. Loft ladders make accessing loft space a lot easier, allowing you safe access to your storage space whenever you need it.
‍
Ramsay Ladders specialises in designing and manufacturing custom-made ladders using the latest technology and innovations. We also carry a vast selection of stock ladders to meet just about any need. We have put together this guide to help you choose the perfect model for your home.


Which Loft Ladder is Best?
We carry several types of loft ladders in order to give our customers plenty of choices. Here are brief descriptions of each type: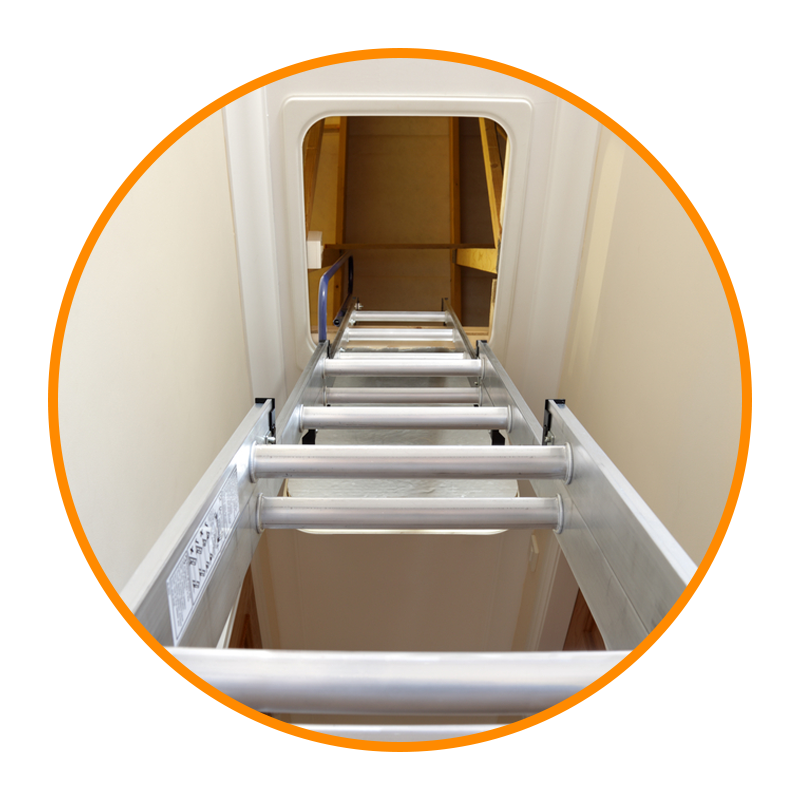 1. Sliding Loft Ladder (AKA The Original Ramsay Loft ladder)
‍
The sliding ladder is the original loft ladder. It is suitable for most homes. The sliding ladder is characterised by two or three sections that slide out to extend from hatch to floor. They easily slide back when the ladder is retracted. Sliding ladders do require a fairly sizeable hatch, but most homes can accommodate them. They need only a single bracket fixed over the hatch edge.
‍
Take a look at our Sliding Loft Ladder (AKA The Original Ramsay Loft ladder).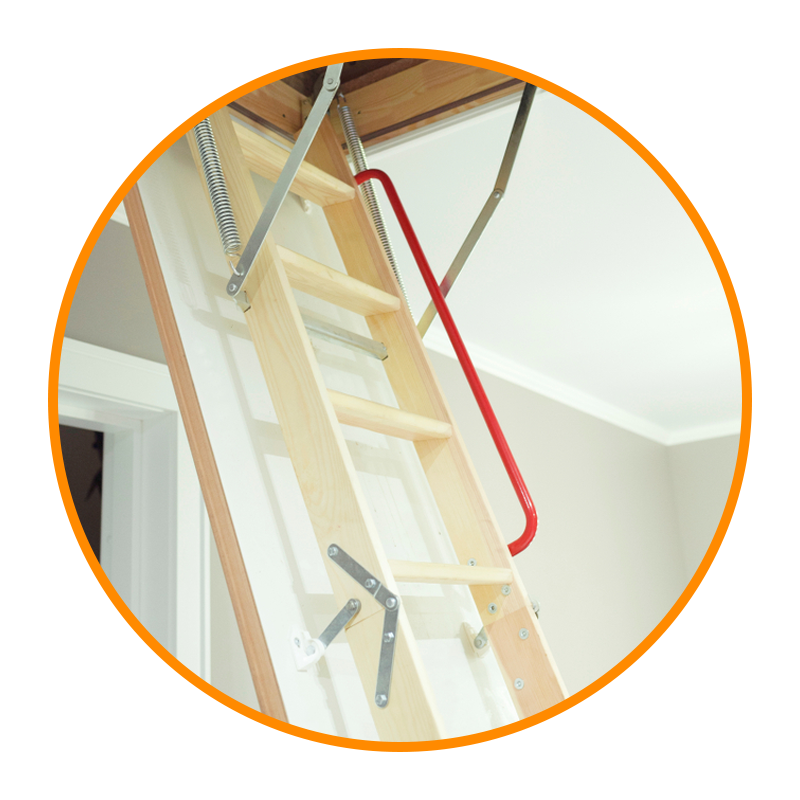 2. Folding Loft Ladder
‍
The folding loft ladder is similar to the sliding ladder except that the sections fold on top of one another instead of sliding into a frame. This type of ladder is ideal for customers who prefer wood over aluminium. A single bracket over the hatch edge keeps the ladder in place. It is supported by hinged arms on either side that fold in and out of the way when the ladder is retracted. 

Take a look at our timber folding ladder.
3. Telescopic Loft Ladder (AKA The TELESTEPS Loft Ladder)
‍
Ramsay Ladders offers the first truly telescopic loft ladder in the industry. Each section of the ladder slides into the section above to fully retract and hide away. Pulling down on the bottom section with a poll causes each subsequent section to telescope outward and extend the ladder. The main advantage of this type of ladder is its compact nature. It is secured by just six screws and can be installed in even the smallest spaces.
‍
Take a look at our Telescopic Loft Ladder.
4. Concertina Loft Ladder
‍
The concertina loft ladder is another excellent choice if you are looking for a compact unit. This one is designed on the accordion principle, with treads mounted on triangular accordion rails that fold up into a very compact rectangle. The compacted frame then folds up into the hatch. The entire ladder is controlled by springs providing just the right amount of tension for easy retraction and extension. The ladder can be fitted to a ceiling hatch or a wall access hole.
‍
Take a look at our Concertina Loft Ladder.

Measuring for Your New Loft Ladder
To assess which loft ladder is most suitable to your needs, a few key measurements are required. The three basic measurements for all types of loft ladders are:
‍
- hatch length
- hatch width
- ceiling height
‍
Ceiling height is the distance from floor to ceiling in the space in which you intend to install the ladder. It is not the height of the loft ceiling.

For our folding loft ladder, two additional measurements are required:
‍
- Floor Clearance – This is a measurement of the amount of floor space available for accommodating the fully-extended ladder. You generally only need the length of the space, measured outward from the rear of the hatch. You can hang a plumb line down from this point and then measure from there.
‍
- Folding Clearance – Folding clearance is the amount of lateral space available for actually folding and unfolding the ladder. In an open space, like a bedroom, the amount of clearance may be affected by furniture. If you are installing in a hall, you may have to account for a banister or the landing for the stairs.
‍
For a more detailed rundown of which dimensions are needed for the different ladder types, take a look at our brochure or call us on 01307 462 255 and we will be happy to help.

Material Choices - Timber or Aluminium?
Loft ladders can be purchased in either timber or aluminium construction. Is one better than the other? Not really. Wood ladders are strong and reliable. They are capable of supporting fairly heavy loads, heavier loads than aluminium ladders in some cases.
‍
Wood is a material that makes for more comfortable ladders as well. It is slightly more flexible and capable of absorbing more shock. And if you like wood's aesthetic appeal, it may be the obvious choice. The big downside to wood ladders is that they need more space. They are also bigger and heavier than their aluminium counterparts.
‍
Aluminium is a much lighter material. Therefore, aluminium loft ladders are easier to handle for people with limited strength and stature. Unlike wood, aluminium is perfect for telescopic and concertina designs. And because aluminium offers good tensile strength, loft ladders can be made smaller and still support the same amount of weight.
‍
As for the downsides, aluminium can feel less stable than wood. It tends to make noise under heavy loads, making some homeowners nervous. You also don't get the same rustic look with aluminium.


Loft Ladder Usage and Durability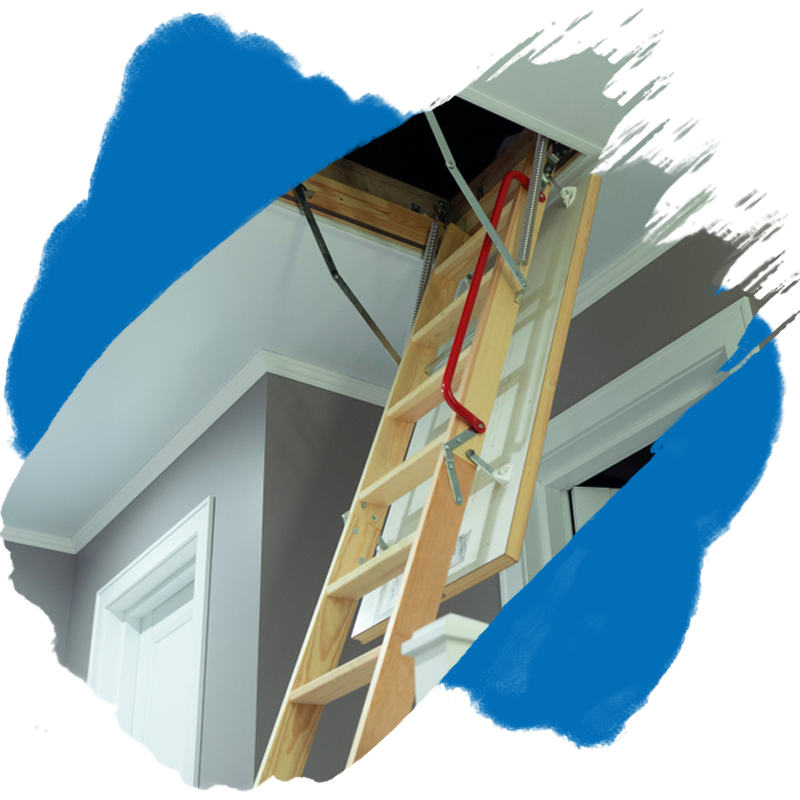 Accessing your loft on a limited basis suggests you might be fine with an entry-level model, such as our Domestic Loft Ladder . But if you access your loft frequently, looking at something a bit more robust is probably a good idea, such as our popular Ramsay Original Loft Ladder. The more usage and the heavier the loads, the more likely you will need a heavy-duty ladder capable of taking a significant amount of punishment.

How Much Do Loft Ladders Cost?
Loft ladders do not cost much when you consider the benefits of opening your loft for more storage. Compared to paying for external storage, a ladder could pay for itself in just a few months. Here's what we offer at Ramsay Ladders: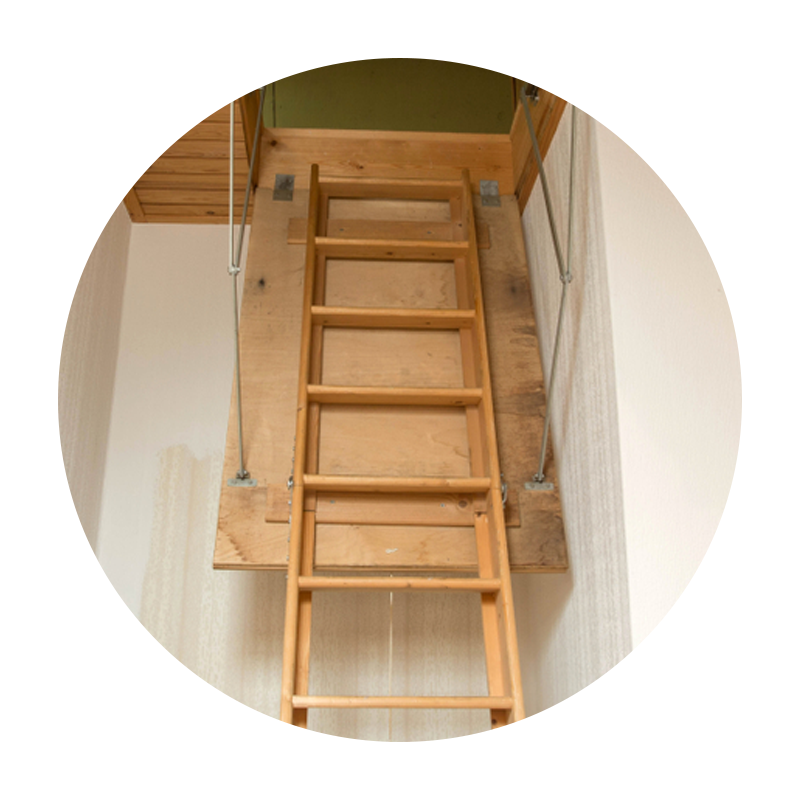 All listed prices are entry-level prices. Your actual price may be higher based on your options. Note that we lay out all pricing clearly so that there are no surprises.

Where to Buy a Loft Ladder?
We encourage you to consider Ramsay Ladders for your loft ladder purchase. We have been in the business more than 50 years, designing and custom-building ladders for both domestic and commercial applications. Each of our loft ladders is constructed without interfering weights or wires. They are designed to be easy to use regardless of age or ability.
‍
You will also appreciate our nationwide delivery network. Regardless of where you live, we can deliver your ladder in a timely fashion following your order. We will even give your order priority if your chosen ladder is not currently in stock. We will expedite whatever we need to get your ladder to you quickly.
‍
Please note that loft ladders are only to be used for accessing a loft as a storage space. If you are using your loft as a living space, you will need permanent stairs fitted instead. They will need to comply with all building regulations.

Shop Loft Ladders